Sanford Carder was a son of William (about 1739 - 1801) and Sarah (d. 1807) Carder. He was born in Culpeper Co., Va., on 16 September 1760, according to his Revolutionary War pension application. He moved to Hampshire Co., WV with his parents, before 1777. He lived there until about 1794, when he moved to Bourbon Co., Kentucky, where he bought land on the south fork of Indian Creek. He sold this land in 1798 and moved to Fayette Co., Ohio, where he died on 7 August 1845.
Sanford Carder was enlisted in the Revolutionary Army in September 1780. He served six months as a militiaman in Captain Daniel Rickersonís Virginia Company. He later enlisted in April 1781 and served 18 months in Captain Gunnís Company and Col. Anthony Whiteís Regiment of Continental Dragoons. He is shown on the Hampshire County tax lists from 1785 to 1790. In 1818 Sanford and Nancy Carder sold the land that belonged to Nancyís father Conrad Hoffman in Hampshire County, Va., and acknowledged it in front of a judge in Fayette Co., Ohio. This deed is on file in Hampshire County, WV.
According to Sanford Carderís recruitment record, he was 5í 8" tall, had sandy hair, gray eyes, and a fair complexion. He was a planter.
Sometime around 1785 he married Nancy Hoffman in Hampshire County, West Virginia. She was a daughter of Conrad Hoffman of Hampshire County. She died before 1827. He then married on 27 December 1827 to Sarah Bragg Davis, a widow, who was born in 1786 in Virginia. Sanford Carder was issued a pension in 1833 for $75 per annum. His widow received a pension for the same amount in 1856. Sanford Carder died in 1845 at the age of 85, and was buried in an unmarked grave on his 100 acre farm. He left no will, and his estate was administered by his son Peter.
Sanford must have been well thought of, perhaps because of his bravery during the war, because many Carders named their children Sanford for several generations. There are Sanford Carders in the Sanfordís line and in the lines of Sanfordís brothers William and Abbott, as well as in the line of George Carder of Culpeper County, VA, and Hampshire County, WV, who was probably Sanfordís uncle or first cousin. The name Sanford Carder also appears in the line of John Carder of Culpeper County, VA, and Taylor County, WV, and the line of Lawrence Carder of Culpeper County, VA, Taylor County, WV, and Missouri. So it appears that even the cousins of Sanford Carder thought enough of him to name their children after him.

Sanford Carderís Revolutionary War Pension Application, 1832
The State of Ohio, County of Fayette On this 4th day of Oct. A.D. 1832 personally appeared in open court before the Judge of the Fayette County Court of common pleas now sitting Sanford Carder a resident of Union Township in the County of Fayette and State of Ohio aged 72 years the 16th of last Sept. who being first duly sworn according to law doth upon his oath make the following declaration in order to obtain the benefit of the act of Congress passed June 7th AD 1832.
That he entered the service of the United States under the following named officers and served as herein stated:
This affiant states he was called into the service of the United States in Hampshire County in the State of Virginia in the month of September AD 1780. He was at this time drafted as a Militia Man under the command of Captain Daniel Rickerson. Under this commander the affiant marched to Hilsborough in North Carolina. This was the place of rendevous for the Virginia Militia. General Green was at the time the Commander of the Southern Army. From Hilsborough he marched to South Carolina to the Pedee River at a place called Cheraw Hills. At this place the affiant remained through the latter part of Fall and most of the Winter. When this company and affiant under the command of the said Rickerson returned to Virginia unto to a place called Albermarle Barracks here this affiant was left with several others to guard some prisoners until the next morning. As the time for which this company was drafted was now expired the remainder of the company continued on home, this affiant then received a discharge from the colonel to whom he delivered the prisoners for two terms of three months each at this time the tours of the militia were three months but the company had been out six months lacking a few days. The affiant returned home on the last day of February when in a short time after it again came the turn of these men to serve a tour. Those who received a discharge for two tours refused to serve and court martial set and considered discharge and pronounced it good for six months although the time was a little short of two tours. The affiant says he cannot recall the exact number of days but it was of more than 5 months that he served at this time. In the month of April in the year 1781 there was made a regular draft for soldiers to serve in the regular army of the United States. It fell to this affiantís lot the enter the regular army which he did in the month and year aforesaid. He was about two months in the post when he was joined to a company of Lighthorse command by Captain Gunn. This company was part of the Regiment commanded by Colonel Anthony White. He thinks it was the first Virginia Regiment. He was joined to this company a short distance Richmond in the said state of Virginia. He marched under the command of Colonel White through Richmond and Petersburg to South Carolina and made a short hall in Santee River in this state. Then marched to the state of Georgia, crossing the Savannah River about 20 miles from Savannah. The British were at this time in Savannah. The United States troops with which the affiant was this this time and place were commanded by General Anthony Wayne. They were stationed within six miles of Savannah at Widdow Gibbonsís where they remained several months for the purpose of preventing the British from leaving the town to get provisions. While at this place they were attacked by about 500 Indians in the night. A severe skirmish followed in the the Whites had five killed and wounded and the Indians lost 30 killed. The Whites took in this battle about 130 horses and several loads of deer skins. In this battle General Wayne had his horse shot under him. This affiant was one of twelve soldiers that went with the officers to within sight of Savannah and shot at by the British. The affiant remained at this place until the 18 months for which he was drafted expired and he was then and there regularly discharged by the regular officer. He the affiant at this time served eighteen months. I hereby relinquish every claim whatsoever to an anuity or pension except the present and declare that my name is not on the pension roll of the agency of any state.
1) When and where were you born? The affiant answers he was born in Culpeper County in the State of Virginia on the 16th day of September A.D. 1760.
2) Have you any record of your age and if so where is it? The respondent answers he has no record of his age.
3) Where were you living when called into the service, where have you lived since the Revolutionary War, and where do you now live? The affiant answers he lived in Hampshire County in the State of Virginia when called into the service where he remained until 1794. He then removed to Bourbon County in the State of Kentucky where he remained until the year 1800 when he removed to Fayette County in the State of Ohio where he now lives and has lived since.
4) How were you called into the service, were you drafted, did you volunteer, or were you a substitute, and if a substitute, for whom? The affiant answers he was drafted.
5) State the names of the regular officers who were with the troops where you served, such Continental and Militia Regiments as you can recollect, and the general circumstances of your services. In the answer to this question the affiant refers to the body of his declaration where it is contained in full.
6) Did you ever receive a discharge from the service and if so by whom was it given, and what has become of it? The affiant answers he did receive a discharge both tours as he states in his declaration. That he does not recollect the colonelís name who gave him the first discharge, nor does he remember where it now is, the last discharge he received from Colonel White. This stated that he had received no pay. He sold this for a horse. The purchaser carried it to Richmond and received the affiantís wages. This served as an order and was returned.
7) State the names of persons to whom you are known in your present neighborhood and who can testify as to your character for veracity and good behavior for your services as a soldier in the Revolution. The affiant refers to the Hon. Jacob Jamison, Wade Loofbourrow, Esq., Jacob Judy, and Samuel Loofbourrow.
his
Sanford x Carder
mark
We Samuel Loofbourrow a clergyman residing in the County of Fayette and State of Ohio and Jacob Jamison resident of the same place hereby certify that we were well acquainted with Sanford Carder who has sworn to and subscribed the above declaration that we believe him to be 72 years of age that he is respected and believed in the neighborhood where he resides to have been a soldier in the Revolution and that we concur in that opinion.
Saml Loofbourrow Jacob Jamison

Sanford Carderís estate settlement, 1845
Purchases made by Sanfordís widow, Sarah Carder:
| | |
| --- | --- |
| Items | Price |
| 7 milch pots | .25 |
| 1 looking glass | .37 |
| 29 head geese | 3.62 1/2 |
| 2 horse colars | .75 |
| 2 blind bridles | 1.75 |
| 2 sets plow gards | 3.25 |
| 1 two horse wagon | 32.50 |
| 1 dunn mayer (horse) | 40.00 |
| 1 gray mayer | 30.00 |
| 1 pair steel gards | 1.37 |
| 1 shot gun | 1.00 |
| 51 1/2 bushels oats | 7.21 |
| 1 ham | 1.00 |
| 1 pot trauel | 1.00 |
| cupboardware | |
| 1 beaurow | 5.00 |
| 1 candlestand | .50 |
| 1 tin lamp | .12 |
| 1 wayghter | .12 |
| barrels of lumber | 2.68 |
| 1 side saddle | 2.50 |
| 1 coper kattle | 1.50 |
| 1 pair sheep cheres | .50 |
| 1 washing tub | .50 |
| 1 broud axe | 1.25 |
| 1 tub and washboard | .37 |
| 1 stone churn | .50 |
| 1 meat tub | .50 |
| Total | 114.17 1/2 |
The deceased, having left a widow, is set off to her without appraising the same as directed by statute:
2 spinning wheels

No books or pictures

1 cow

12 sheep

20 pounds yarn from same

2 beds and bedding, 2 bedsteads

Pots, kettles, and all other cooking utensils of the deceased being necessary for the family,

clothing and wearing apparel of the deceased.

1 table

6 knives and forks,

6 plates, 6 teacups and saucers,

1 large dish and milch pots,

1 teapot,

12 spools,

the clothing and wearing apparel of the widow.
The schedule of property set off by us as appears as appraised for the support of the widow one year from the death of the deceased, estimated as follows:
5 hogs at four dollars each on hand

115 bushels corn and 16 3/4 cents pr. on hand

23 bushel wheat at 62 1/2 cents, 14 bushel on hand

Balance to be paid by administrator, 9 bushels at 62.

Cash to be paid by administrator for necessarys $30.00
Also included in the estate was a note for $1,557.00, which Peter Carder had borrowed from his father and was due at the time of the settlement.

Much of the information on the children of Sanford Carder comes from the settlement of the estate of Sanfordís son, Peter Carderís widow, Catherine. Peter had a large estate, and died childless, leaving his estate to his widow. When she died, all of Peterís brothers and sisters and their heirs went through a long lawsuit in 1886 to settle the estate, which was valued at about $36,000. Peter Carder also gave 600 acres to the county about the time of the Civil War, and the County Infirmary was built there.
W1-1 Family of Sanford Carder (1760-1845) and Nancy Hoffman Carder (d. before 1827)
1 Armstead Carder (about 1786 - before 1883), married 20 January 1808 in Ross Co., Ohio, to Elizabeth Bragg. He was born in Hampshire Co., WV. He settled in Ohio with his parents. He is listed in Madison Co., Ohio, in the 1820 census, and at McArthur, Logan Co., Ohio, in the 1830 and 1840 census. He moved to Hardin Co., Ohio about 1844, and settled on land owned by James Lightner. His wife died there and is buried in the Fuls Cemetery. In 1850 he is listed at McDonald Township, Hardin Co., Ohio, age 63, and was living with his son, John H. Carder. He is in the 1860 census of Belle Center, Logan Co., Ohio, and his name appears as Hamsted Carter, age 74. He was living in the household of his daughter, Nancy Cesler. By 1871 he was living at Winterset, Madison Co., Iowa, as stated in his 1871 pension application. He then moved back to Ohio and died at or near Belle Center, according to History of Hardin County, Ohio, published in 1883. Armstead Carder served in the War of 1812. He was a private and served from 30 August to 9 October 1812. He was a member of Captain W. Kilgoreís Infantry Company and Colonel James Reneckís 2nd Regiment of the Ohio Militia.

2 Sarah Carder (8 November 1788 - 5 November 1867), married on 15 April 1812 to James McGowan (11 January 1790 - 4 January 1867). Both Sarah Carder McGowan and her husband James McGowan were born in Hampshire County, W.Va. They lived in Madison County, Ohio in 1846. They are both buried in the cemetery at Bloomington, Fayette County, Ohio.

3 Phebe Carder (29 December 1791 - 24 March 1874), married 23 March 1811 to John Harrod (17 December 1785 - 14 October 1840). John Harrod was probably a son of Thomas Harrod who was originally from Bedford Co., Pa., witnessed William Carderís 1801 will, and was killed by Indians 30 May 1803 in Ross Co., Ohio. John and Samuel Harrod purchased 450 acres in McArthur, Logan Co., Ohio, on 9 November 1820. This land was located on Cherokee Manís Run and was purchased from Daniel McArthur for $932.

4 Nancy Carder (about 1794 - 17 March 1875), married 6 January 1812 in Fayette Co., Ohio, to Jacob Thompson (1788 - 2 March 1869). Nancy Carder was born in Kentucky. Jacob and Nancy Carder Thompson are buried in Kirkwood Cemetery, London, Richland Co., Ohio.

5 Elizabeth Carder (16 October 1795 - 17 November 1859), married 10 March 1811, to Samuel Harrod (4 February 1785 - after 1846). He purchased land in Logan Co., Ohio in 1820 with his brother John (see #3 above). Samuel and Elizabeth Harrod conveyed land near Huntsville, Butler Co., Ohio, to be used as a Harrod cemetery and for a church, to be called ďUnion Pleasant Hill ChurchĒ, for all denominations.

6 Charity Carder (1797 - before 1886), married 31 October 1815 in Fayette County, Ohio, to Jacob Powers. They lived in Ohio in 1846.

7 Peter Carder (1798 - 19 May 1863), married 18 December 1826 in Pickaway Co., Ohio to Catherine Mouser (4 February 1809 - 13 January 1883). She was a daughter of Peter and Christina Hoffman Mouser of Pickaway Co. Peter Carder died at Marion, near Washington Court House, in Fayette Co., Ohio. He and his wife had no children, and Peter left by will to Fayette Co. a farm of 500 acres, on which the County Infirmary was built. The building was completed in 1869 and was known as the Carder Infirmary. It has since been torn down, and the presant Childrenís Home stands on one end of the land and the County Airport is on another part. The rest of Peterís estate was left to his widow Catherine. She did not leave a will and the court ordered that the estate be split equally between Peterís brothers and sisters and Catherineís brothers and sisters.

8 Sanford Carder (1800 - 15 February 1855), married 20 September 1825 to Susan Pendergrass (1806 - 10 January 1880). They lived at Union, Fayette County, Ohio, at least until 1850. Shortly afterwards they moved to Millersburg, Iowa, where Sanford died in 1855. Susan remarried in 1859 to Edward Hasden (1795-). However, in 1870, Susan was again going by the name Susan Carder, as shown in the Iowa County, Iowa census. Both Sanford and Susan Carder are buried at the Millersburg, Iowa, cemetery.

9 Mary Carder (1804 - 1885), married 23 February 1820 to Isaac Cooper (d 1842). Isaac and Mary Carder Cooper moved to McArthur, Logan County, Ohio, in 1826. In 1830 they purchased land near the present Huntsville Cemetery and erected a tannery, the first in the area. In 1835 they purchased an extensive tract near Lewiston, and Isaac died there in the house later occupied in 1880 by J.O. Cherry.

10 Rebecca Carder (1812 - after 1886), married William H. Hoover. She was the only living child of Sanford and Nancy Carder when the Catherine Carder estate was settled in 1886. They lived in Lucas County, Iowa, in 1886, and later in Kosiusco County, Indiana.
Family of Sanford Carder and his second wife Sarah Bragg Davis Carder (1786-after 1760)
11 Jacob Carder (1829 - 1864), born in Fayette County, Ohio. He was still living with his mother in 1860. He married in 1861 and was killed in the Civil War in 1864. His family spelled their name CARTER. His descendants were not listed in the Catherine Carder estate settlement in 1886.
Some other genealogies state that James Carder (1804-1859) of Harrison County, W.Va. was a son of Sanford and Nancy Carder. However, he was born in Hampshire County, WV, and not in Ohio, where Sanford was living. Also, he did not share in Sanfordís estate, nor did his heirs share in the estate of Peter and Catherine Carder in 1886. If he had been Sanfordís son, surely he would have moved west with his father and not stayed in West Virginia. He fits the profile of James Carder, son of Abbot Carder, brother of Sanford Carder. James Carder and his descendants are in the Abbot Carder section of this site.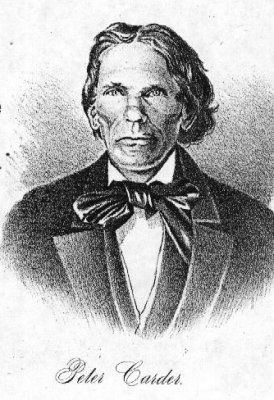 Peter Carder (1798-1863), son of Sanford Carder